Volcano Jewel Mine

Level
6
Cost
249
Sells for
 ?
Experience
0
Size
4 x 4
Description
Robin's been searching the Volcano Island for the legendary Jewel Mine of the Phoenixes and at long last, she found it! This glittering maze of jewels and sluggish magma is a treasure trove: an excellent resource for your kingdom!
Notes
Gives 3 jewels every 8 hours for 60 days.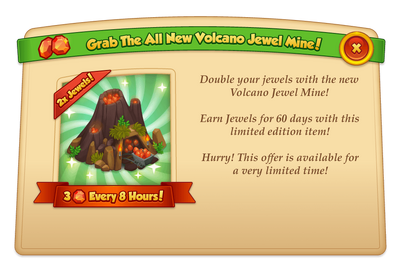 Ad blocker interference detected!
Wikia is a free-to-use site that makes money from advertising. We have a modified experience for viewers using ad blockers

Wikia is not accessible if you've made further modifications. Remove the custom ad blocker rule(s) and the page will load as expected.